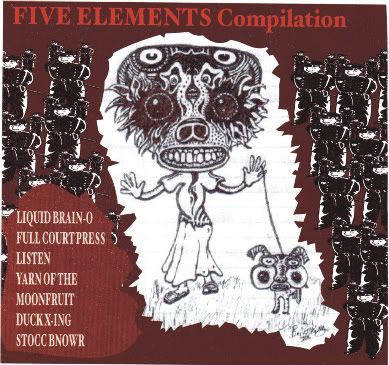 "This is a comp of DFW bands that played around at places like Moontunes, SpiderBabies, Red Blood Club, house shows. etc. back in the late 90's early 2000's. It was collective effort between all the bands. 500 copies were released and given out at shows to promote the short lived 5 Elements label.
Some people may remember Liquid Brain-O/Urine Trouble because their leadman (Brian )promoted tons of shows back then. Also "Yarn of the Moonfruit" who were the guys behind "Moontunes" and a really awesome noise band. For those who don't know (Moontunes) was the main DIY venue of that era. I lost the insert with the track names but here's the bands:
LiquidBraino/Urine Trouble = tracks 1-3
Full Court Press = Tracks 4-6
LISTEN = tracks 7-10
Yarn of the Moonfruit = tracks 11-12
Duck X-ing = tracks 13-15
Stocc Bnowr = tracks 16-18"
http://www.mediafire.com/?sharekey=c6ca8a0141c995eab94117dade8fc29531efd3b8c7a9e023935cbde7375ca78c